The Cold Spring Farmers' Market, located at their new "summer" home at the former Butterfield Hospital, (Rte 9D & Paulding Avenue) in the Village of Cold Spring, NY is proud to announce that Fresh Fish has come to the market.  The CSFM provides a vital link to healthy, fresh food, and the farmers that produce it, now with fresh fish at the market, you can find everything you need in one convenient spot.
What's to note?
Now located at the former Butterfield Hospital, the Market has ample parking, shaded lawns for picnics, and a great roster of regional farms and food artisans. Open 8:30am – 1:30pm every Saturday, rain or shine. Support regional farms while obtaining wonderfully fresh and health food.  (After October, the market continues indoors within the Philipstown Community Center).
Who's There?

Weekly: All You Knead Artisan Bakers, Bread Alone, Block Factory Tamales, Breezy Hill Orchard & Cider Mill, & Knollcrest Farm, Dutch Desserts, EB's Golden Harvest, Four Winds Farm, Full Moon Farm, Go-Go Pops–Go-Go Joe, Grammy's Garden, Kessman Farms, Madura Farms, Morgiewicz Produce, Pura Vida Fisheries, Simply Valley, White Oak Apiary, Willow Ridge Farm, Willow Tree Flower Farm
Rotating:
1st & 3rd Saturdays: Butter Babies Soaps, Wintergreens CSA (quick pickled and vegan specialties)
2nd & 4th Saturdays:  Krazy for Kazu's (sauces & dressings), Lanza Farm (maple syrup and rel products)
Wineries: one of four Hudson Valley Wineries visit every Saturday (Cascade Mountain Winery, Palaia Vineyards Winery, Warwick Valley Winery & Distillery, Whitecliff Vineyards)
FRESH FISH COMES TO MARKET:
Captain Rick Lofstad of Pura Vida Fisheries has joined the market to provide wild caught seafood, year round, every Saturday. Montauk has nothing on Cold Spring now as local residents have access to a tremendous selection of very fresh seafood (caught the day before).
Captain Rick carries an average of 18 North Atlantic species such as:  squid, sea scallops, blue fish, black sea bass, black fish, striped bass, fluke, flounder, grey sole, skate, hake, swordfish, shellfish (clams, steamers, mussels, oysters)- and more!
New:  Events for Kids starting 10am Saturday, July 3, 2010:
Jonathan Kruk, Storyteller, is visiting to share enchanting tales in the comfortable shade of the market's shaded picnic area- starting promptly at 10am. Additionally, the Cornell Master Gardeners are in to answer any gardening questions you may have.  Ruth Eisenhower is visiting with her rabbits and a spinning demo as well.
Also: Fresh BLUEBERRIES! (and currants, gooseberries, raspberries…)
Visit  http://www.csfarmmarket.org/ to learn more about the market, and connect to the market's Facebook page.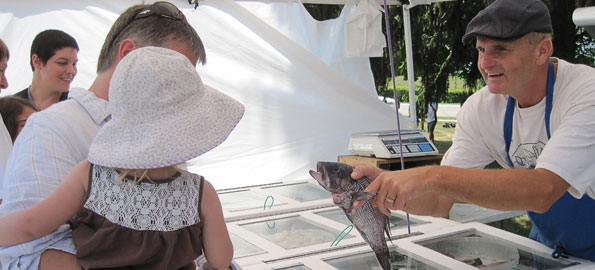 Category: Business, Cold Spring, Garrison, Places of Interest