Carmel: Daniel Nimham Annual Pow Wow
The Daniel Nimham Intertribal Pow Wow will be held on Saturday, August 22, 2010 and  Sunday, August 23, 2010 at Veterans Memorial Park, 199 Gipsy Trail Rd., Carmel, NY.  
10am to 6pm * Rain or Shine
** FREE ADMISSION ** and ** FREE PARKING **
Subscribe to our weekly 'Things To Do Guide' newsletter and stay informed of what's happening in Putnam County
Event Schedule for Saturday and Sunday:
Gates Open at 10AM Each Day 
11:30 Story Teller and Author Evan Pritchard
12:00 Grand Entry ~ Led by Dennis Redmoon and Gerri Panther Eyes - Eastern Cherokee
12:15 Intertribal Dancing ~ Everyone Welcome!
 
12:30 Special Prayer for Daniel Nimham, his son Amraham and the Wappinger People
12:30 to 1:30 Intertribal Dancing ~ Everyone Welcome!
 
1:30 to 2:30 Birds of Prey exhibition Skyhunters In Flight with Brian Bradley
2:30 to 3:30 Intertribal Dancing ~ Everyone Welcome!
 
3:30 to 4:30 Wolf Program with the Wolf Conversation Center of South Salem, NY
4:30 to 5:30 Intertribal Dancing ~ Everyone Welcome!
 
5:30  Retire the Colors
Continuing Events:
Puppet Shows at 11, 2 and 4:30 in the Barn
Story Telling
Local Historical Society displays and information
Pony Rides  
Native crafters from all over the country
Pony rides from Pide Piper
Birds of Prey
Native Foods
Story Tellers
Camping Available for Dancers
Tee Pee Display
Local Native History
Performances by 3 Or More Drum Groups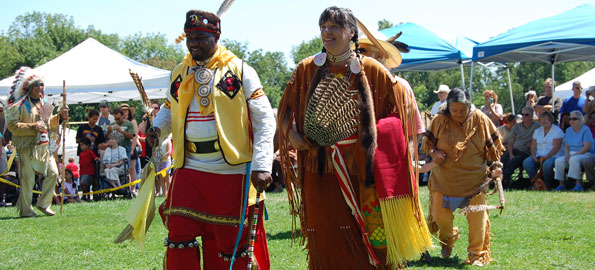 Saturday, 21 August, 2010
10:00 AM
-
05:00 PM
Cost:
Free Admission & Parking
Categories:
Veterans Memorial Park
201 Gipsy Trail Road
Carmel
,
NY
10512
US
Phone:
845-225-3650
Website:
Click to Visit
Browse Events at this Location
Park Hours:
10:00 am - 7:30 pm  (Memorial Day to Labor Day)
10:00 am - 3:30 pm  (Fall, Winter and Spring)
Park Office:
Open during park hours (see above).  The friendly Park Rangers will help you obtain your park permit, provide information on the parks, and provide maps for all Putnam County Parks and Conservation Areas.
Event Contact Info
Website:
Click to Visit